MEDIA USE Page 3 .

PETER COAD & THE COAD SISTERS

"BANJO & HENRY" Show

>> Banjo & Henry Poster (hi res Jpeg)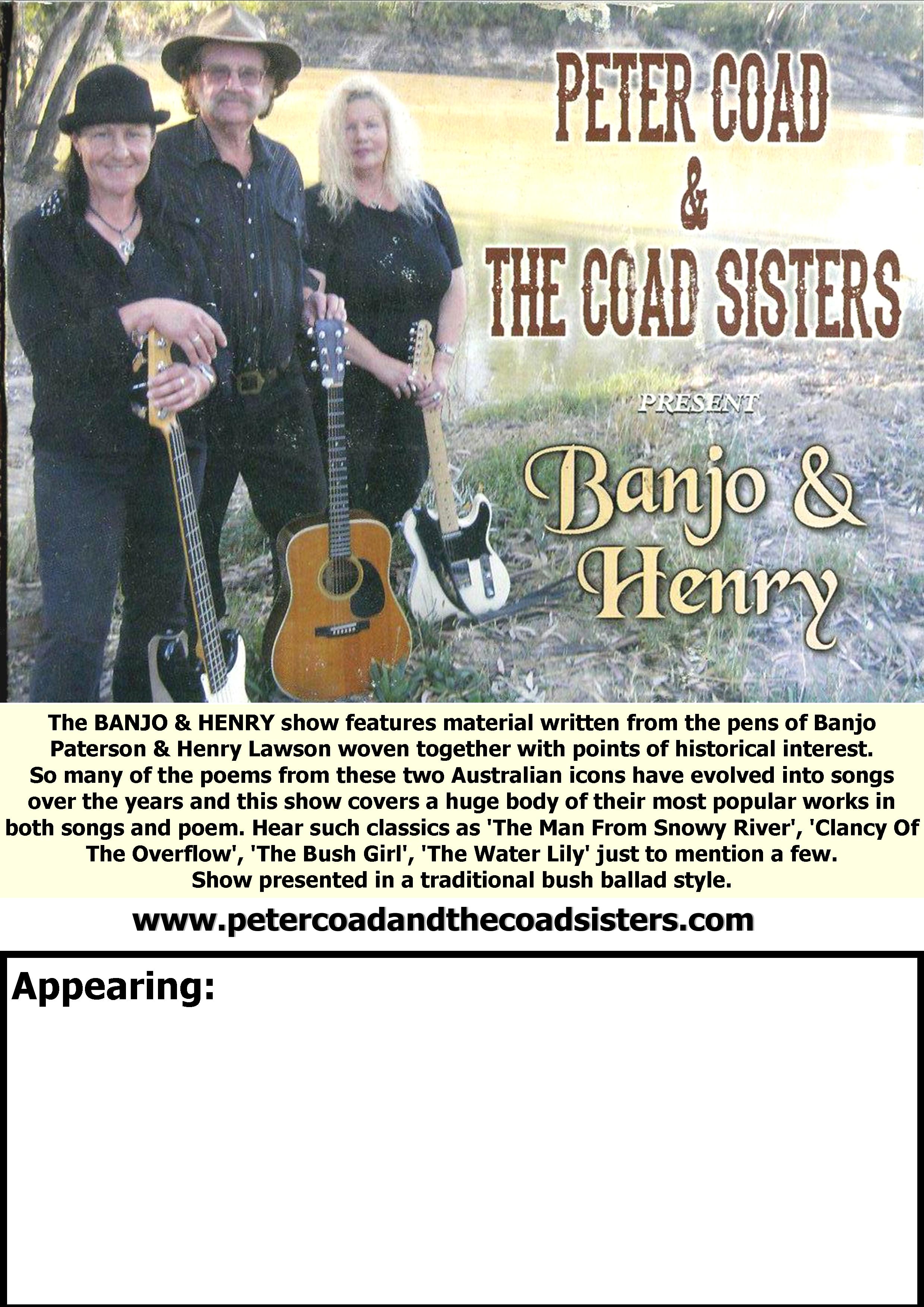 The BANJO & HENRY show features material written from the pens of Banjo Paterson & Henry Lawson woven together with points of historical interest.
So many of the poems from these two Australian icons have evolved into songs over the years and this show covers a huge body of their most popular works in both songs and poem.


Hear such classics as 'The Man From Snowy River', 'Clancy Of The Overflow', 'The Bush Girl', 'The Water Lily' just to mention a few.

Show presented in a traditional bush ballad style.
The songs are presented by Peter Coad & The Coad Sisters..






~~~~~~~~~~~~~~~~~~~~~~

ABOUT THE 'BANJO & HENRY' SHOW...

"Doing this show is very close to our hearts as being songwriters of Australian stories ourselves we understand and appreciate the importance of history that is preserved through bush ballad songs and bush stories.

We enjoy presenting a show such as 'Banjo & Henry' because we feel we are helping to keep alive the Australian history and characters of the days and times that 'Banjo & Henry' captured in their lines for future generations to appreciate."

"We recorded an album of 'Banjo & Henry' songs/poems a few years back that we had been singing on our shows over the years, and the response was so positive we decided to put the show together.

The "Banjo & Henry" Show is one we do every year at the Tamworth Country Music Festival at the 'Balladeers Homestead' to much acclaim.

One can really not get any more authentic Australian stories and poems than those written by the pens of Banjo Paterson & Henry Lawson".

Peter Coad & The Coad Sisters

BANJO & HENRY POSTER (hi res jpeg)